Phew! Need a holiday after the long week end. We did heaps and had so much fun.
On Friday we went for a walk around part of Lake Burley Griffin - from the Museum to Regatta Point, stopping for a coffee at the bike hire.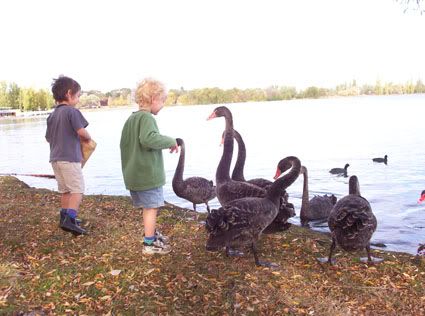 We then walked through Commonwealth Park up over the pedestrian bridge into the city and walked to where Rydges is and then back over another pedestiran bridge back to the lake. We fed the swans and the moor hens. AJ and Timmy were able to hand feed the parents, the cygnets are still a bit wary. They are almost adult size but "peep" like babies rather than "honk" like adults.
Saturday was a hang around the house day with the kids playing games.
Sunday, we had an egg hunt in the garden and then had a picnic lunch at Cotter Reserve. We had a walk around part of the reserve and then headed home, via a detour to Mount Stromlo for afternoon tea.
Monday after lunch we went to Tidbinbilla Nature Park to meet up with some friends and relaxed with the kids at the playground.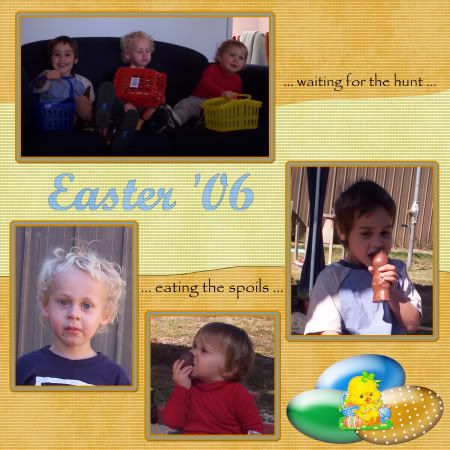 I managed to get a page scrapped on Easter. I used a freebie kit by Lisasdesigns called Hop Hop. Thanks Lisa. Fonts were: Papyrus and Script MT Bold. My demo version of PSCS2 has expired and I had to use my really old version of PS. I am now going to try a demo of PSE4 and then make the decison of which one I will get.
I finally downloaded some photos I took a few weeks back too. Here is a photo of the ceramic wall art the DH got me for our anniversary. I cannot wait to be able to hang this up in our new house. For the non-Aussies that stalk my blog this is the body armour that an infamous bushranger called Ned Kelly wore.